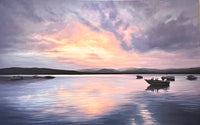 Summertime Memories
I had the pleasure this spring of painting a commission for a lovely couple who had a family cottage in the Laurentians. This painting was inspired by their photos and was a joy to paint!
This summer I will be participating in the Buckhorn Arts Festival on August 19-20. This will be my 3rd time at this show and I look forward to it once again. I just love the atmosphere and cottage feel to this outdoor show.
This fall I will be part of the SAGA (Sweet Art Group of Artists) Group show that will exhibit 1x and 2x Square foot paintings from the group. I've been busy pulling together a series of 12"x12" landscapes for this show.
Also this fall (October dates to be confirmed) I will be participating in the Oshawa Art Association Fall Show at Camp Samac.
Original Artwork & Giclees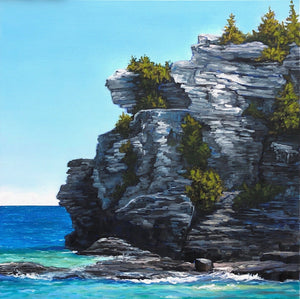 Original Artwork
My original landscape paintings are created using artist quality oils on archival museum grade canvas stretched on 1 1/2" stretcher bars (gallery canvases).  Each piece is varnished to keep the colours vibrant and protect the work from ultraviolet light.  
Each piece is signed on the front and back of the artwork.
My paintings are framed with a 2" espresso wood frame (also available in black finish) to complement the painting.  Paintings are available without framing upon request.
All artwork, original or giclee, are subject to Copyright©️Kristina Billinger 2020.
Available Original Artwork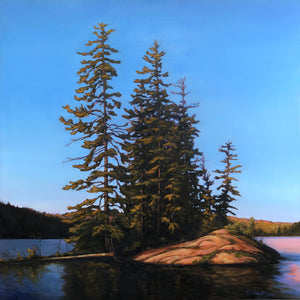 Giclee Prints
Giclee is a term used for a fine art digital print made on inkjet printers.  Giclees are more expensive to reproduce than a bulk print lithography and are of much higher quality.  Giclees are printed with a microscopic sized dot pattern allowing for virtual continuous tone printing which produces the highest quality print.  
Giclees come in Limited and Open Editions and are marked as such on the shopping page.  The Limited Edition giclees are printed on archival museum grade canvas using the Epson High Dynamic Range Ultrachrome pigment based inks resulting in a print that is rated for over 100 years normal use without any fading.  Each print is mounted on wooden stretcher bards 1 1/2" thick.  There is a 2" mirrored pattern around the outside of each print which makes framing optional.
All artwork, original or giclee, are subject to Copyright©️Kristina Billinger 2020.
Available Giclees
Commissions
If you want to acquire a Kristina Billinger original but would love one of your favourite scenes or memories in a size that's perfect for you, we are happy to work with you to realize your vision.
Kristina will work with the client on sizing and subject matter and have the client select other works by Kristina that they admire.  Kristina will produce a painting that is consistent with her style.  We request a non-refundable deposit to cover artist's costs although the client is under no obligation to purchase the final painting.  If the client declines the painting, it will go into Kristina's gallery for sale.  
Contact Kristina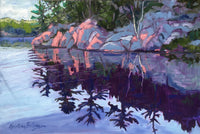 About Kristina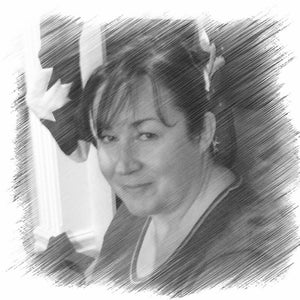 I paint the places I've been and the sights I've seen.  I grew up camping most summer weekends, sometimes in remote areas of the province, and I developed a love for our great Canadian landscape and its variety of trees, rocks and bodies of water.  It's these elements that inspire me to capture Canada's beauty on canvas.  Although largely self taught, I have been helped by many great Canadian artists including Gordon Harrison, Philip Craig and Marissa Sweet. 
I started out painting in acrylics at a local community center and was asked to join a group of artists, now known as the Sweet Art Group of Artistis (SAGA), to share ideas and painting approaches.  It wasn't until I took a course with renowned Canadian Landscape artist Gordon Harrison, that I fell in love with oil paints and I haven't looked back. I use oil for all my paintings and generally use a gallery canvas that I wash and block in with acrylics and ink.  My favourite part of the creative process is the initial sketch I do on the canvas.  While many artists forego this step and directly apply paint, I find the sketching process allows me to move from a photo to canvas and select the elements I want to include in the painting. I find this stage to be the most intimate of the end-to-end process and I often leave the sketched canvases for long periods of time to enjoy before the paint is applied.
My hope is that my art reminds people of childhood places visited, fun filled family vacations or favourite peaceful moments alone hiking or canoeing.  I'm a true believer that everyone should own an original piece of art, no matter how small, how simple or how inexpensive.  Having an original piece of art, created with love from someone's hands that captures a thought, a feeling or a moment in time allows us to escape to our memories or our thoughts each time we look at it.  It brings the great Canadian outdoors inside our homes and our lives. ​
Events
2023
Buckhorn Arts Festival - August 19-20
SAGA Group Show - 2Square Feet - September 2023 (more details to follow)
Oshawa Art Association Fall Art Show (more details to follow)
2022
OAA 54th Annual Juried Art Show May 5-22
Riverdale Art Walk 2022 - June 18-19
Buckhorn Art Festival - August 13-14
SAGA Group Show - Memories - Opening Day September 24, 2022
Oshawa Art Association - Fall Art Festival - October 15 & 16
Pineridge Arts Council- Fall Juried Show November 3, 2022
2021
Sunshine & Summertime Solo Show - July 1 - Sept 6
2020
The Holiday On-line Art Sale - Bowmanville Rotary and OAA Fundraiser - November 2020
Solo Show - June 2020
Riverdale Artwalk On-Line Show - Jun 6-30
Raw Artists of Canada - National Arts Drive - June 20
OAA Spring Show - Cancelled due to COVID
OAA Juried - Cancelled due to COVID
OAA - Bomanville Rotoary On-line Art Show - Nov-Dec 2020
SAGA Group Show - Memories - Cancelled due to COVID
Busy in the studio working on commissions and toward 2021 shows
2019
Oshawa Art Association 51st Annual Juried Show - Winner of People's Choice Award
Oshawa Art Association Spring Show
Oshawa Art Association Fall Show
Whitby Juried Show - Whitby Rotary Club - July 12-13
Buckhorn Arts Festival - August 17-18
Station Gallery Juried Show - December 18 - January 12
Artist's Network Holiday Smalls Show - December-January