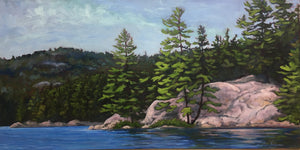 15" x 30" (framed 19" x 34")
Oil on canvas framed with 2" espresso frame.
A favourite book of mine is Following In The Footsteps of The Group of Seven.  As we canoed George Lake I couldn't help but think of the Group of Seven that use to canoe, hike and paint in this area.  This one was for them.